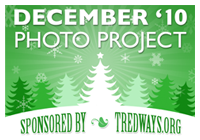 Yes, I am starting on the fourth for the second year in a row.
But to make up for it? Look at me, gettin' all fancy with our lil' train. He looks like he's movin'! (sort of) WHOOO WOOO.
And this one? This is because I just couldn't resist the cute little red bokeh at the left in the foreground.
Be sure to click the button up top to check out the other December Photo Project participants (who probably weren't scrambling for a picture late in the day)! :)